Vertical Compression Of Garbage Transfer Station
Brand : QUNFENG
Product origin : China
Delivery time : 30 Days
Supply capacity : 500 sets/year
LYC10 vertical compression of garbage transfer station is one set of special equipment for environmental sanitation which specifics for mass household trash. This equipment is featuring high efficiency of compression, strong environmental adaptation……
Products Introduction
LYC10 vertical compression of garbage transfer station is one set of special equipment for environmental sanitation which specifics for mass household trash. This equipment is featuring high efficiency of compression, strong environmental adaptation, high reliability and durability. Combining with the developed matched self-discharging refuse transfer vehicle. It will mainly meet the need of refuse processing in small-medium cities and large towns.
Functions
◆ LYC10/LYC08 vertical compression of garbage transfer station works with high efficiency and high compression and short cycle time.
◆ With high structural strength and advanced anti corrosive process. The machine produced by high-quality and high-strength steel, and its overall structure is stronger than other models in the market.The machine is adopted advanced anti-corrosion technology, which can effectively extend its lifespan.
◆ The lifting height of trash bin can be adjusted flexibly according to transport vehicles with different configurations.
◆ Adopting automatic fast forward, compression and compressing maintenance function. Garbage compressing process: firstly the pressure head down quickly until the bottom surface of pressure head compresses garbage, then slow down the compressing speed. After garbage is compressed,the automatic compressing maintenance function can ensure the garbage's best density.
◆ The automatic alignment feature can avoid manual operating accident. When the trash bin needs to belifted, the hanging box sliding pin in the pressure head can automatically find the lifting seat on the box and stop to wait hanging box lifting.
◆ Machine's middle door and front door have good synchronization. Cylinder on both sides of the two doors use high strength gear racks which enable machine to run smoothly.
◆ Microcomputer control system adopts advanced PLC control technology, the garbage compression cycle can realize full automatic operation, also automatic and manual operation can be switched flexibly, which greatly improve the reliability of equipment.
◆ The hydraulic system has high reliability. Machine adopts independent integrated hydraulic station and its main components of hydraulic system use international branded products.
Technical Parameters:
| | | |
| --- | --- | --- |
| Technical Data | LYC10 | LYC08 |
| Dimension:L×W×H(mm) | 5705×3350×5840 | 5705×3350×4950 |
| Rated daily capacity(t) | ≥120 | ≥80 |
| Capacity of compression bin(m³) | ≥5 | ≥4 |
| Dimension of garbage block(mm) | 1600×1850×1450 | 1600×1850×1100 |
| Weight of garbage block(t) | 4×2=8 | 3×2=6 |
| Rated working pressure(Mpa) | 21 | 21 |
| Power(kW) | 22 | 22 |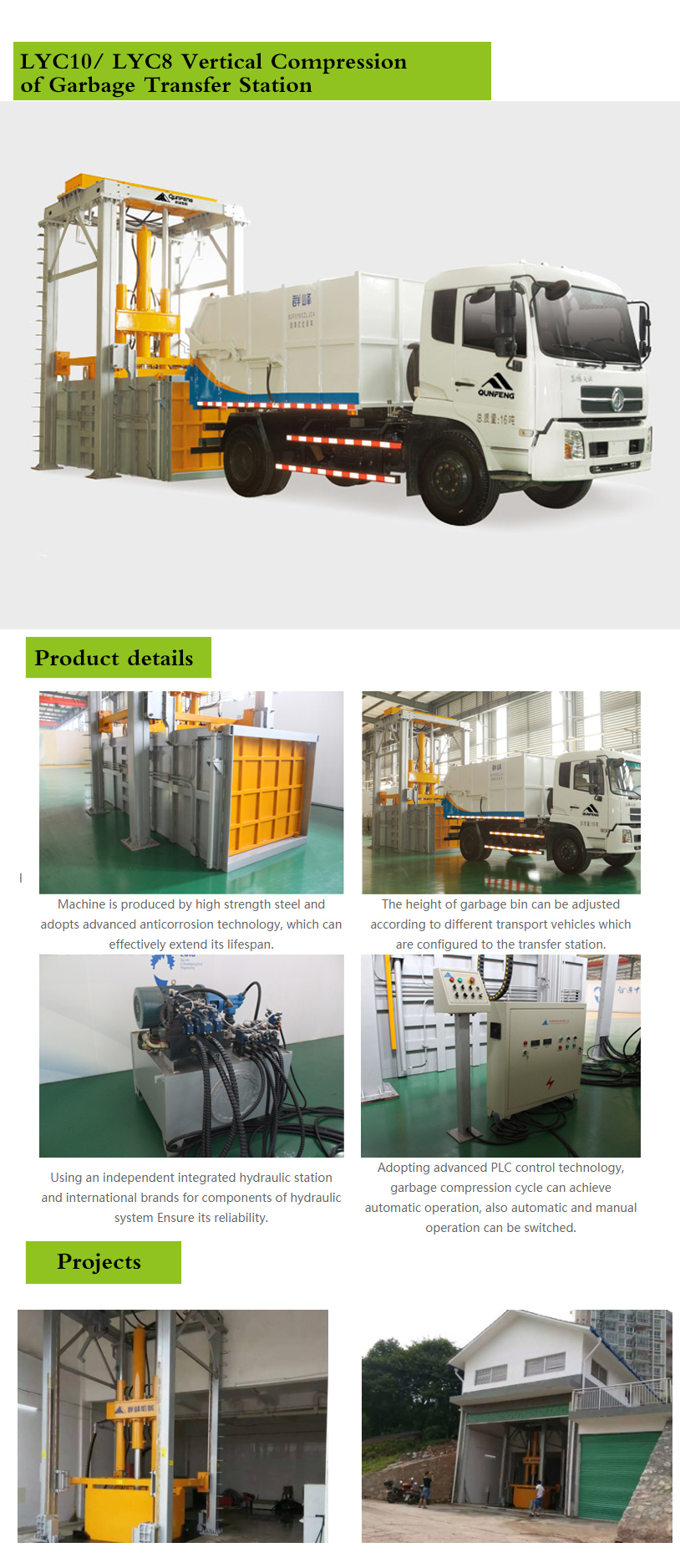 Please feel free to give your inquiry in the form below. We will reply you in 24 hours.