Multifunctional Sweeping and washing Truck
Brand : QUNFENG
Product origin : China
Delivery time : 30 Days
Supply capacity : 500 sets/year
MQF5161TXSD5 / MQF5181TXSD5 This truck is a multifunctional efficient sanitation truck with functions of sweeping and washing. It has functions of road sweeping, washing, flushing, and water spraying, and it can also collect the rubbish and the sewage. The Multifunctional Sweeping and washing Truck can meet many requirements, especially applicable to the urban streets and the roads which require high cleanness.
Functions
◆ Introduced Germany industry design concept, adoption of a brand-new design,look attractive and elaborate,well man-machine coordination.
◆ Adopt device of "central dual disc brush+central wide suction nozzle+high pressure spray lance" realizing integrated work of sweeping,high pressure flushing and garbage/sewage collection.
◆ Suction system adopts mechanical buffering suspension structure whcih extends significantly lifespan of parts of roller etc.
◆ High-pressure water system adopts solenoid water valves for manipulation of on/off,look compact and terrific,stable and reliable.
◆ Imported high pressure industry water pump,high cleaning capability,stable and reliable quality.
◆ Crucial components of water system,pneumatic system,electric system and hydraulic system are all selected from prestigious suppliers,like air cylinder,air valve group,sprayer pump,motor,PLC etc.to enhance vehicle reliability.
◆ There is spraying and cleaning device in the carriage that it could wash automatically after dumping.
◆ Water tank,garbage container and high pressure water system are all made from 304 stainless steel delivers outstanding performance in anti-rust and anti-corrosion.
◆ Independent low-pressure water system comes with nozzles on left and right flushing crosswise that fulfills work of flushing roadway.
◆ Intelligent control system integrates electronic,hydraulic and pneumatic system in one,touch panel with compact and neat interface,easy to operate.
◆ Several safety warning devices:low water level warning of water tank,high water level warning of garbage container,water temperature warning of motor,oil pressure warning,backup camera,tipping container warning,water pump load-off,work status indication etc.which offers full inspection,detection of equipments and warning.
◆ Real-time adjustment of rotation speed of motor based on amount of garbage to process which ensures quality work while reduce fuel consumption at the same time.
◆ Switchable working modes according to actual demand when sweeping or flushing.
Specification
Model

MQF5161TXSD5

MQF5181XSD5

Type of the Chassis

DFL1160BX1V

DFH1180BX1V

Emission standard

GB V

GB V

Model and Power of Chassis Engine (kW)

ISD210 50/155

ISD210 50 / 155

Model and Power of Deputy Engine (kW)

QSB5.9-C160-30/120

QSB5.9-C160-30/120

Wheelbase (mm)

5000

5000

Dimension: L*W*H (mm)

8770×2500×3010

8770×2500×3010

Weight(kg)

15800

18000

Volume of water tank(m³)

10

10

Volume of the Garbage Bin(m³)

7

7

Cleaning

Max Cleaning Width(m)

4.1

4.1

Cleaning speed(km/h)

3-10

3-10

Sweeping

Cleaning Width (m)

3.5

3.5

Sweeping speed (km/h)

3-20

3-20

Sweeping Capacity (m²/h)

70000

70000

Angle for discharging (º)

≥45

≥45

Water pump of High pressure

Pratissoil KF36

Pratissoil KF36

Water pump of Low pressure

80QZB60/90

80QZB60/90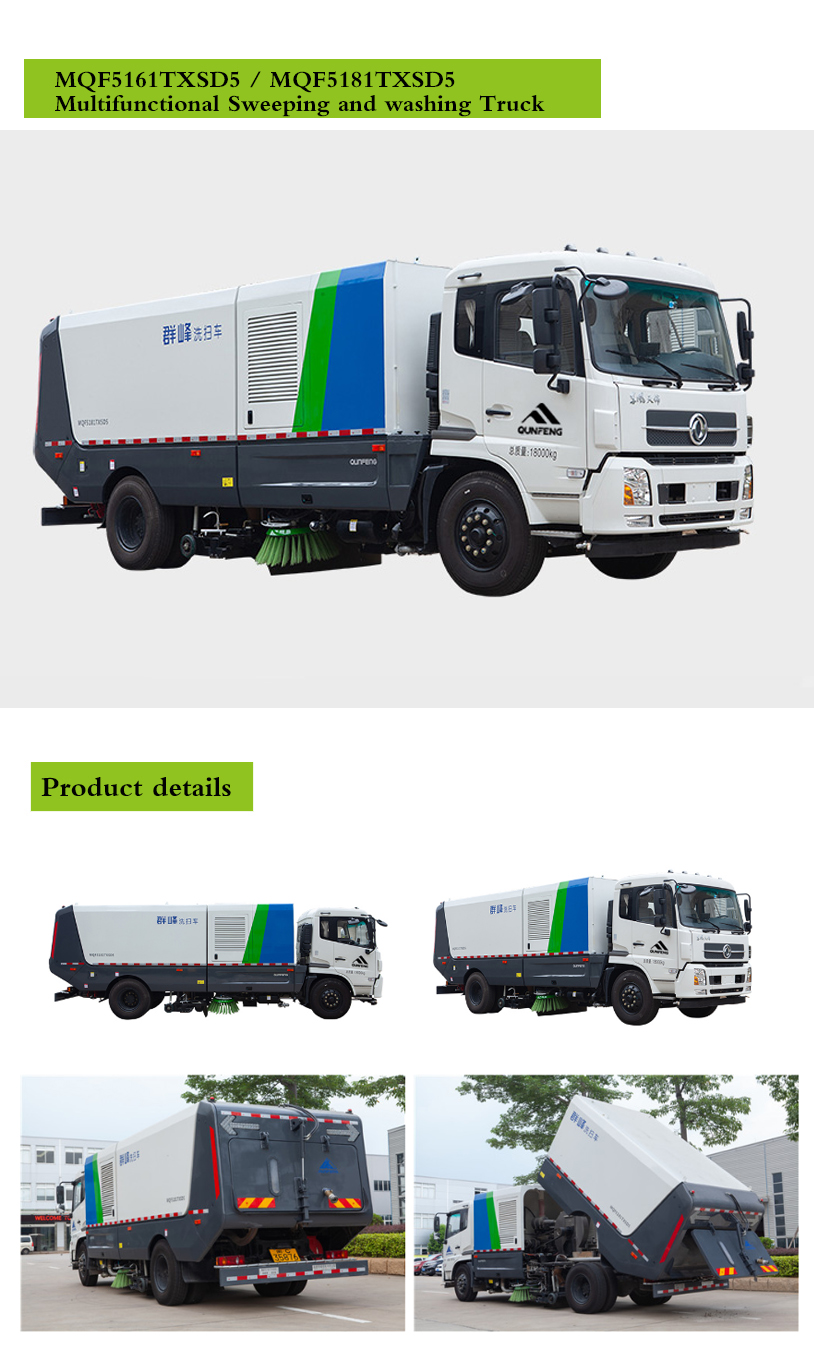 Please feel free to give your inquiry in the form below. We will reply you in 24 hours.