Fly Ash Aac Block Machine Line
Brand : QUNFENG
Product origin : China
Delivery time : 30 Days
Supply capacity : 500 sets/year
Fly Ash AAC Block Machine Line
AAC Block are made of flyash (limeslag or sand) as main raw material,cement and lime as cementing materials,and aluminum powder as foaming agent.The main forming procedures are Material crushing,measuring,mixing,pouring,curing,cutting and steaming.As a new wall body material with the characteristics of light weight, heat preservation,energy saving,waste recycling, environmental protection and convenience etc,AAC Light-weight block is now emphatically promoted by the world.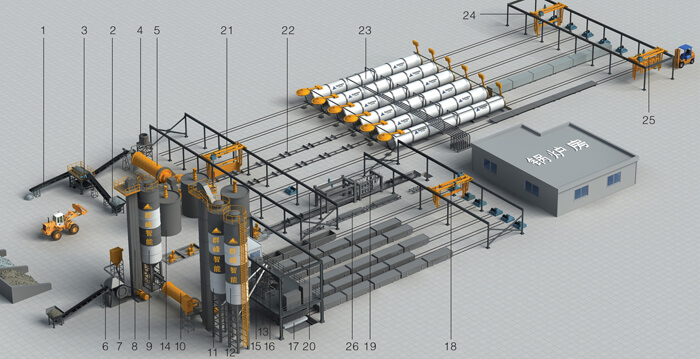 Technological process:
1. First, dose and match measured raw materials;
2. After distributing, feed raw material into pouring mixer to make slurry.
3. Through thoroughly mixing, the slurry is poured to mould;,
4. After pre-curing under a certain temperature and time, the block would reach a certain hardness and prepare for cutting;
5.Tilting hoister would turn over 90 degrees of mould;
6.Then open the mould and separate it from block. And take the block with side plate to the cutting cart;
7.Firstly, the cutting machine vertical cuts blocks from both sides.
8.Secondly the horizontal cutting;
9.Finally the vertical cutting;
10.After cutting, the block is hanged to trolley with side plate by semi-finished product hoister;
11.Organizing the cut blocks and put them into autoclaves;
12.Hardening the blocks under certain temperature and pressure;
13.Carry the finished product out of autoclave;
14. The finished product hoister take the finished product to stock shield;
15.Packed for loading;
16.The side plate return back through side plate roller;
17. Side plate would be organized with open mould;.
18.Clean the mould and prepare for next pouring;
19.Steel bars processing line for slab production.



Global service system

As a model enterprise of China building material machinery, Qunfeng provides upscale and high-quality machinery with intelligent technology for their customers. Covering six continents with 7 overseas service stations and 24 domestic offices, Qunfeng has served 8000 clients from 110 countries and regions with more efficient intelligent manufacturing equipment. Qunfeng has earned great reputation in the world with its products being exported to high-level market worldwide, include Asia, Europe, South America, Oceania, Africa and North America.
Please feel free to give your inquiry in the form below. We will reply you in 24 hours.