Dump Garbage Truck
Brand : QUNFENG
Product origin : China
Delivery time : 30 Days
Supply capacity : 500 sets/year
MQF5160ZDJD5/MQF5180ZDJD5 dump garbage truck is entirely sealed garbage dump truck, which is researched and developed according to sanitary market demand. This truck is designed with the characterisitics of good look, confortable driving, easy operation a……
Description
MQF5160ZDJD5/MQF5180ZDJD5 dump garbage truck is entirely sealed garbage dump truck, which is researched and developed according to sanitary market demand. This truck is designed with the characterisitics of good look, confortable driving, easy operation and high reliability. It can work with the LYC10 vertical compression garbage transfer station,which function as a medium or large compression transfer station.
Features
◆ The Garbage truck is with fully enclosed compartment, sealed back-door and sewage tank. Sealed transportation can eliminate waste and sewage spill, avoid secondary pollution during transportation.
◆ The garbage tank is welded by reinforced beams and steel board, which solid structure and light weight.
◆ Using tipping discharge mode, dump angle more than 45 degrees, simple structure, fast and clean unloading.
◆ Using advanced chassis modifications, low fuel consumption, high-quality turbo charged engine.
◆ According to user's requirements, the car can choose import pumps, imported multi-valve and other groups.
◆ The hydraulic system of lift car is equipped with explosion valve.
◆ All operations can be done in and out of the Cab.
Technical Parameters:
Model
MQF5160ZDJD5
MQF5180ZDJD5
Chassis Model
DFL1160BX1V
DFH1180BX1V
Engine Model/Power(kW)
ISD180 50/132
Emission Standards
GB V
Wheelbase(mm)
3800
Clearance of bin(mm)
1380
Lifting Angle(°)
≥50
Top Speed(km/h)
90
Dimensions: L×W×H(mm)
6822×2500×3075
Bin Inner Size(mm)
4200×2202×1582
Loading Mass(kg)
7325
9525
Weight(kg)
15800
18000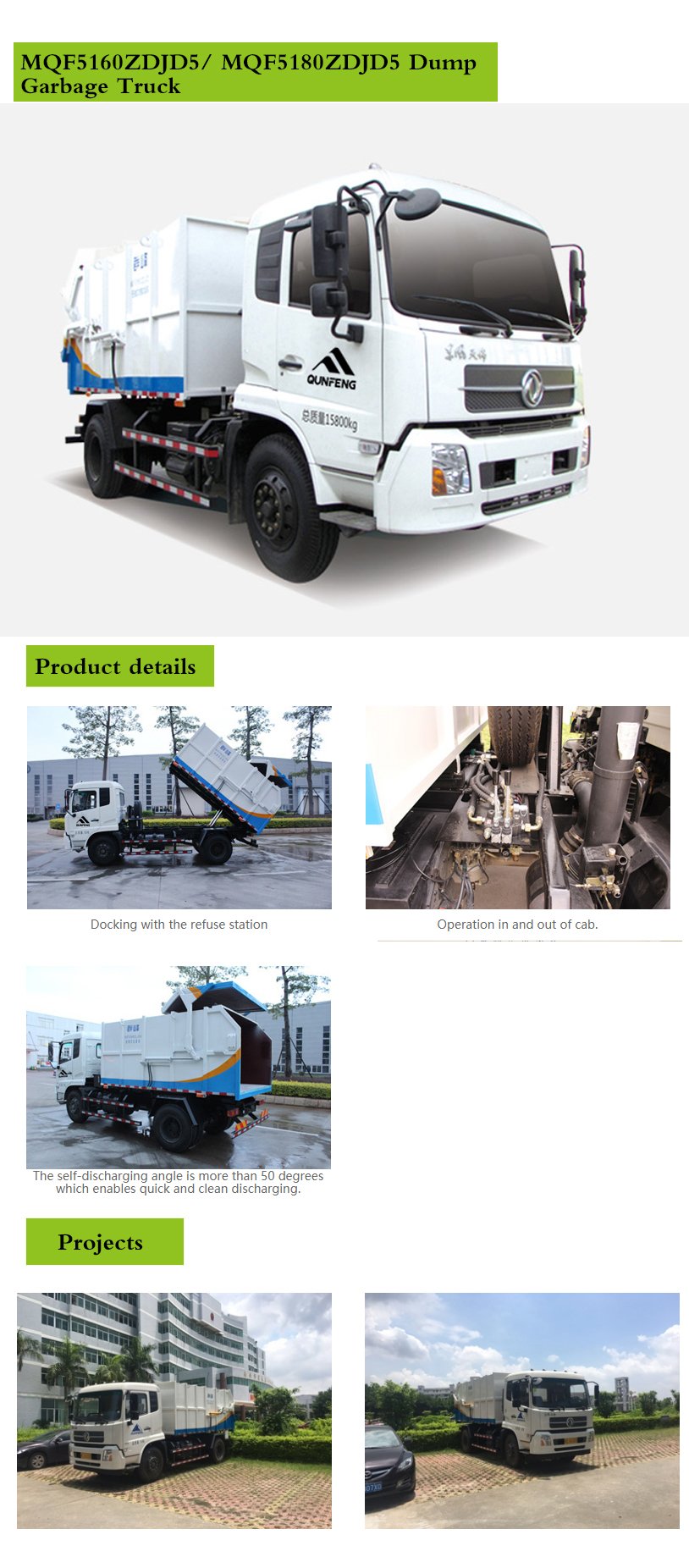 Please feel free to give your inquiry in the form below. We will reply you in 24 hours.