Back-loading Garbage Compression Truck
Brand : QUNFENG
Product origin : China
Delivery time : 30 Days
Supply capacity : 500 sets/year
MQF5160ZYSD5/MQF5180ZYSD5 Back-loading garbage compression truck is developed base on European advanced technology and Practicality. The truck's performance is in domestic leading level and mainly suitable for the garbage collection and transportation in ……
Back-loading garbage compression truck
Description
MQF5160ZYSD5/MQF5180ZYSD5 Back-loading garbage compression truck is developed base on European advanced technology and Practicality. The truck's performance is in domestic leading level and mainly suitable for the garbage collection and transportation in good conditions places, such as urban and rural streets, large factories, residential areas and school.
Features
◆ The truck is equipped with domestic advanced Class Two chassis, imported hydraulic and electrical components, which are stable and reliable performance. The drum is made of high-strength manganese which improves hardness and durability.
◆ Big carriage volume, two-way compression technology, horizontally compression cylinder, high compressed capacity and strong loading capacity.
◆ Using composite seal and anti-acid EPDM seal, they are both good sealing performance. There are sewage tanks to collect water in front and rear compartments, to prevent secondary pollution.
◆ It's easy and flexible to joint operate with manual and PLC control. All operating actions can be completed in the cab, which enhance reliability and improved safety and comfort.
◆ Engine power output is automatic, lower fuel consumption and more economic.
Stuffing box has a safety valve lift mechanism and explosion-proof valve, which can improve the safety and also double insurance.
◆ The feeding mechanism can choose bucket mechanism (with 360L steel or 240L plastic barrel), the arm mechanism (with 3m ship-shape bucket) .
Technical Parameters:
Model
MQF5160ZYSD5
MQF5180ZYSD5
Chassis Model
DFL1160BX1V
DFH1180BX1V
Engine Model/power(kW)
ISD210 50/155
Emission Standard
GB V
Carriage Capacity(m³)
13.8
Stuffing capacity(m³)
1.7
Sewage capacity(L)
290+265
Top speed(km/h)
90
Max. working pressure(Mpa)
16
Wheelbase(mm)
4200 4500
Dimensions ( L x W x H)(kg)
15800
18000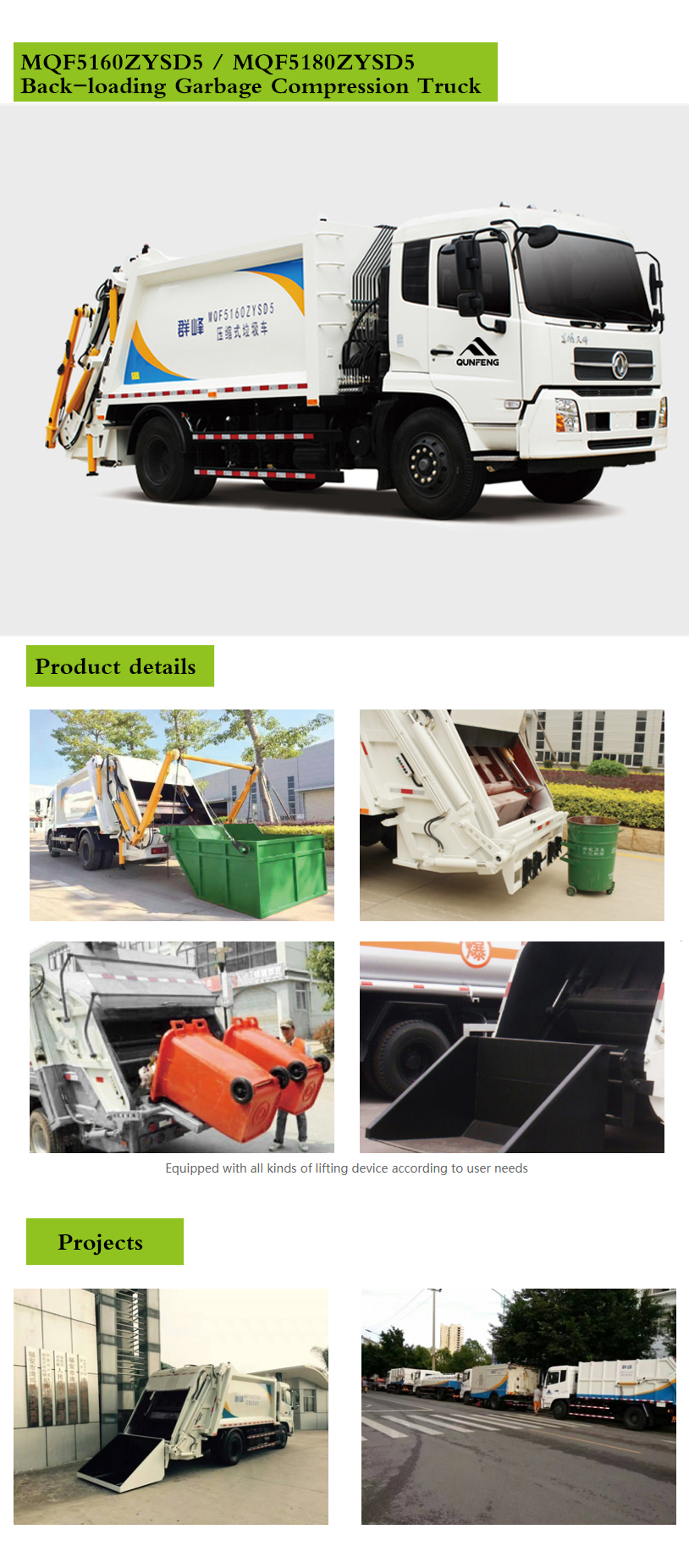 Please feel free to give your inquiry in the form below. We will reply you in 24 hours.